About the App
Re-engage your customer when items are back in stock to maximise your sales. Grow your customer email list.
StockNotify allows your customer to subscribe to email notifications for out of stock items.
You can collect product details including variants and any additional data from your customers' notification subscription, have the information sent to you via email notification or export as CSV from the Control Panel.
Installation
StockNotify is a Single-Click App, it's simple to install and quick to start. There is no need to do any additional website registration or make any Theme or programming changes.
Storefront with Customised Theme can use the Control Panel settings to configure StockNotify to suit their needs.
Ensures that under Advanced Setting -> Inventory you have "Don't do anything" on "When a product is out of stock" and "When an option is out of stock".
App Features
Storefront
Customers can use StockNotify without the need to login or register. This simplified approach increases your customer reach.
Customisable StockNotify Form on Storefront when customer selects a product or product options that are out of stock.
Works with products and variants with or without SKU.
StockNotify Form can be modified to include additional fields, such as email and subscribe options to other offers, to maximise marketing opportunities.
Automatically email customer when item is back in stock. StockNotify checks stock level periodically and sends emails in batches number in relation to stock level to help manage stock level.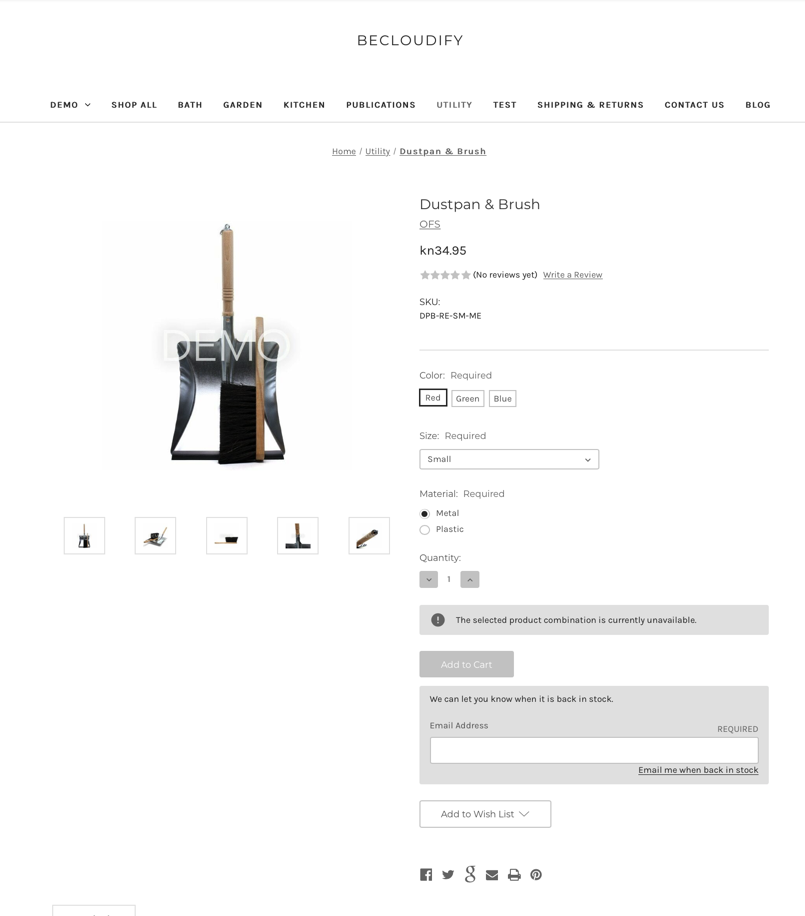 SMTP Settings
Send email to your customer when item are back in stock using your own store email address and customisable template.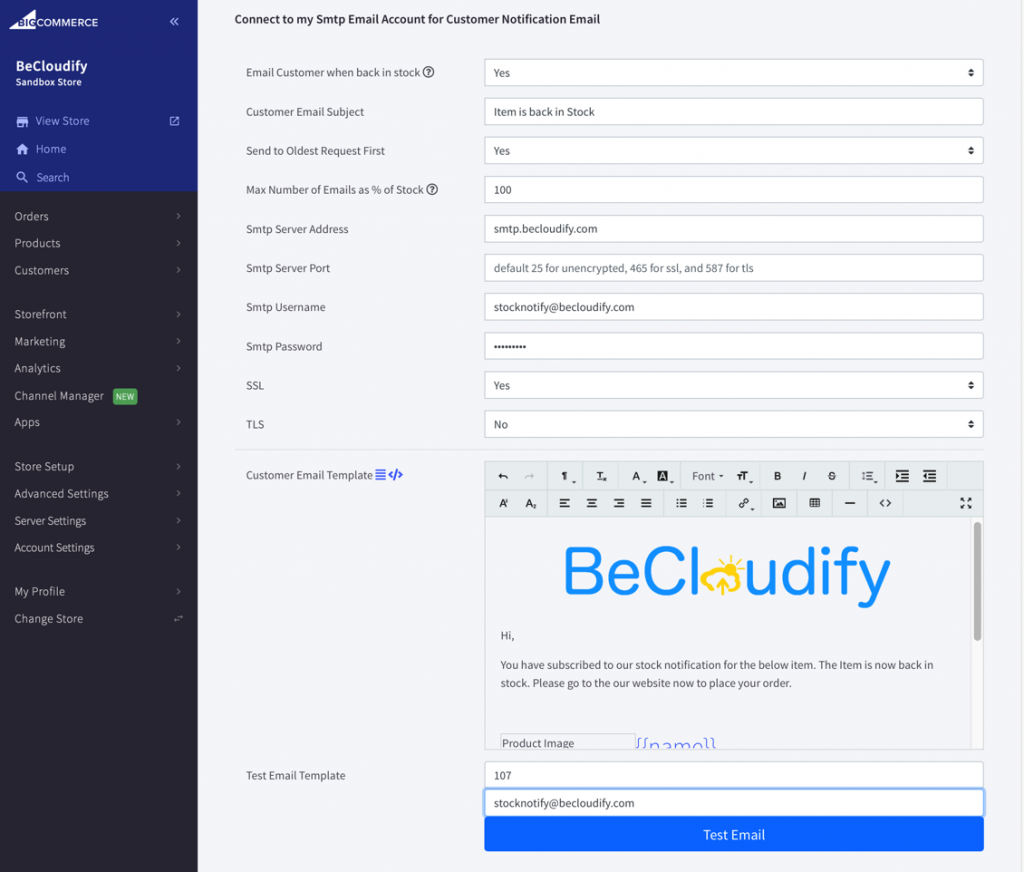 Store Owner
Store owner can choose to have emails sent to a specified store email address on each customer request. Emails can be configured to include product and variant details in the subject so it can be easily sorted through from your email client

StockNotify App offers advance table listing features allowing store owner to filter customer requests and product lists quickly.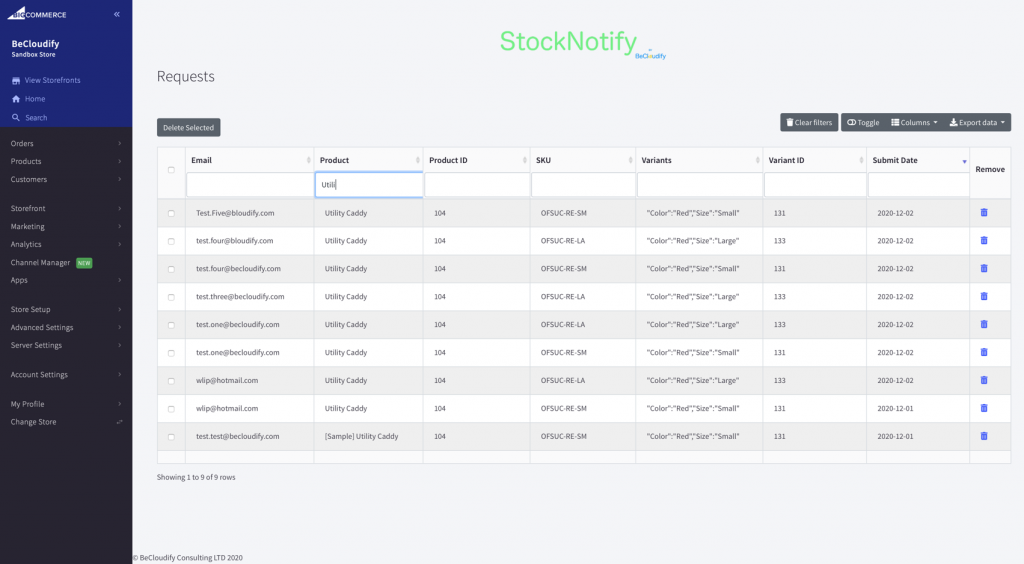 Data can also be exported into CSV and Excel format for managing customer lists offline.

Helps the Store Owner to determine which products and variants are in high demand.
Customisation
The Store Owner can customise their StockNotify Install via the settings page. Such as:
Enable store email notification on customer StockNotify request.
Change your store email address.
Change your store email header to include product and variant information.
Change the location of the StockNotify Form.
Change the Look & Feel of the StockNotify Form.
Capture additional data using the StockNotify Form.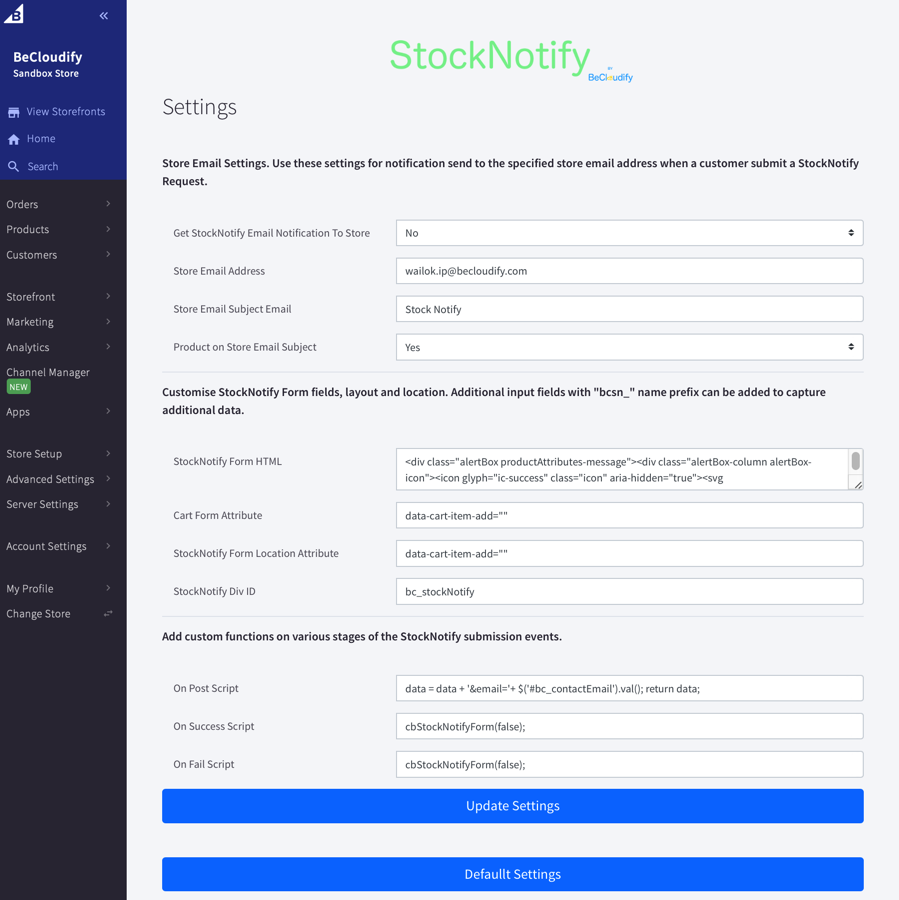 Support
Support is available via http://ticket.becloudify.com or alternatively contact us using the Contact Us form.